System Startup Tweak Guide (Page 3/5)


Updated: September 20, 1999
Written by: Dan "Tweak Monkey" Kennedy

Second Step - Windows Startup

Windows has numerous programs available to tweak your system's startup process. Luckily, one of the best programs, System Configuration Utility, was included with Windows 98. Even Windows 95 users can still grab most of these features from TweakUI, available from the files section (I'll discuss TweakUI in detail a bit later, so you might want to grab it now).

System Configuration Utility

To start the System Configuration Utility, click the Start button, choose Run, and type msconfig. (then hit enter)

It will pop-up to this screen, which already presents some useful options: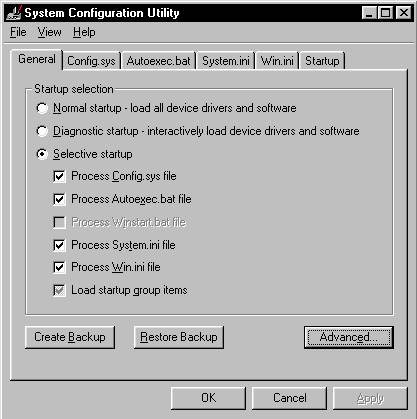 Here you can choose which system files to process at startup. You probably shouldn't alter anything on this section unless you know what you're doing. Click the Advanced button for some more good tweaks: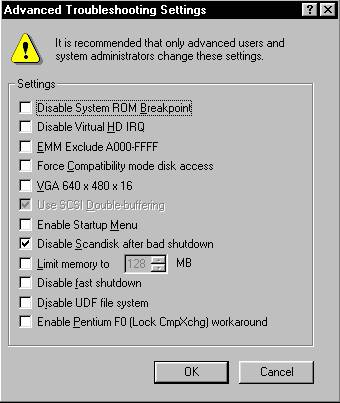 Here you have more options. I recommend you check the box "Disable Scandisk after bad shutdown" to turn off Scandisk's auto-run feature. Most people find this to be irritating. If your system fails to shutdown properly, try checking the "Disable fast shutdown" box. The other options are all for advanced users. You can right click an option and choose "What's This?" for a better description.

Next comes one of the more valuable sections of this program: the Startup tab, found in the main window of the program. Click the tab and you'll see a list of all the programs that launch automatically when your system is started:




Now you can finally choose which programs you actually want your system to launch when it first starts up! Make sure to leave any programs that you're unsure of alone. I recommend you disable any programs you know you don't use every day, like (for me at least) RealPlayer, Microsoft Office, FindFast (Make sure you DISABLE this program), and the Scheduling Agent. If you don't use ICQ very often, create a shortcut on your desktop to ICQ and disable the feature in the Startup tab. When you do use ICQ you can double click the shortcut you created on your desktop. Doing all this will save you plenty of memory and help your system to boot much faster. Now, choose "OK" and restart if necessary.